I suppose that I've collected things because I am both acquisitive and have hoarding instincts. I've had a variety of areas of interest that have peaked and faded. An interest that has remained for a good long time (maybe since I was 16) is firearms. This really has nothing to do with the politics of the objects, they are regulated to a greater or lesser extent. Frankly, only a really wacky liberal scum sucker would give a rats ass for the stuff that makes up the bulk of my collection. I have mentioned a few of the things over the years but today I'd like to share my collection of Bergmann/Lignose pistols.
These things were made in germany (surprise, a firearm made in Germany. Who woulda thunk?) from about 1918 to about 1922 or so.
As good background, take a look at this recent writeup by a noted, and talented, writer on the subject:
http://unblinkingeye.com/Guns/Lignose/lignose.html
In essence, the story begins with the Versailles Treaty which precluded the manufacture of military weapons by Germany after WW1. The very fact that WW has a number shows how well that worked, but I digress ...
You see, a standard pistol caliber was (and is) the 9mm AKA 9mm Parabellum. What means Parabellum? Why it am mean this:
Si vis pacem, para bellum

If you want peace, prepare for war
para bellum = parabellum = for war (oh those wacky germans, telling you exactly what they are thinking)
Anyway, after WW1 firearms made in Germany could not be chambered for 9mm, for war, see?
So the Bergmann company, which had made a 9mm pistol for the military started making pistols in the .25 ACP caliber. (BTW, to understand all this stuff you have to read up on John Browning. The basic designs, the calibers, the marketing all his.). They ripped of a proven Browning design and made a series of pistols in .25 for commercial sales. The cartridges to the left of the 9mm are "non-military". "Kurtz" means "short".
Herr Bergmann made a total of four variations on the Browning design:
#2 - a 7 shot sorta uninteresting little "vest pocket" pistol
n.b. Here is an example of marketing at it's best. The german makers, precluded from producing firearms with a man stopping caliber (i.e. 9mm) took their pipsqueak firearms into a ne niche : easily carried. This the concept of Pocket Pistol and Vest Pocket Pistol was born. Today we only refer to "pocket pistols" since only Rob still wears vests.
#3 - a 10 shot pistol differing from the #2 only in the length of the grip.
Now it gets interesting. Somewhere along the line Herr Bergmann bought the rights to a design that allowed for the cocking of a pistol with one hand. This is a biggie. Remember when we are, this is sorta the incunabula of automatic firearms, the idea of DAO (double action only) or ornate safety's was still in the future. If you wanted to have a gun "at the ready" you loated it, set the safety and hoped you wouldn't blow your privates off. Not with the Einhand!!!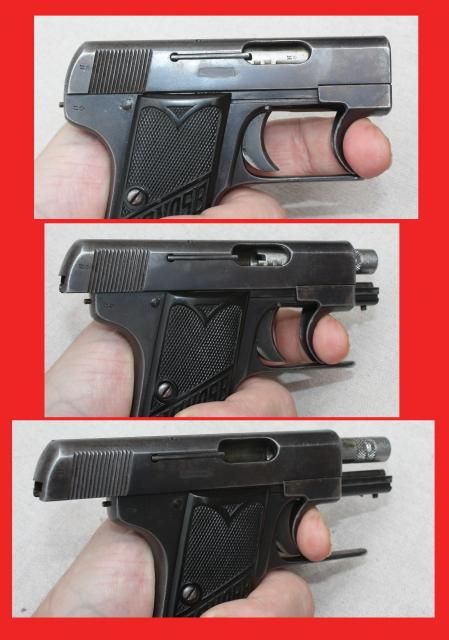 Brilliant.
In any event there are a couple of interesting things about the situation. First is that Bergmann sold maybe in 1920-21 or so, that means that they were producing pistols for 2-3 years. That makes them scarce. The second is that the serial numbers are consecutive across models. So you find #2's, #3's, #2a's and #3a's with serial numbers that have no particular significance with regard to production. The company was sold to an outfit named Lignose which made explosives and film stock. They, in turn, sold out in the late 20's. Or sooner or later. Hard to say. Seems Lignose got more and more involved with the German film industry. In any event, the site of their headquarters appears to have been obliterated by bombs along with, presumably, all of the corporate records. Everything we know is by inference.
So here are the ones that I own: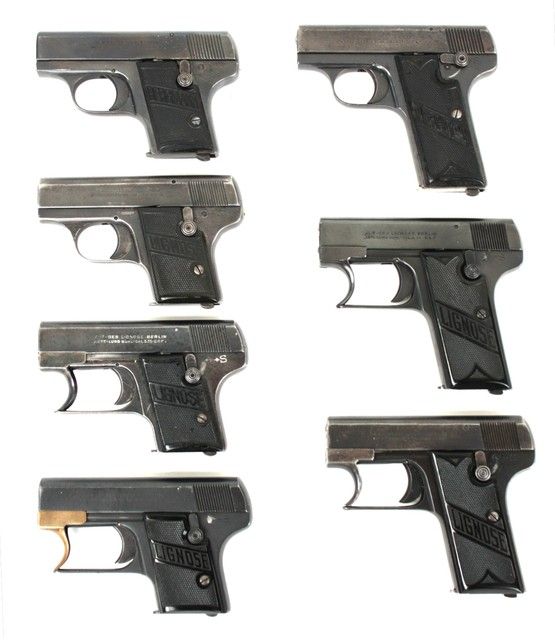 Among these things is one that has the lowest serial number that we know of with Lignose as the manufacturer. There is also a Bergmann #3 which is one of maybe 4 known.
The tech is worthy of note since it came just when the next generation of automatic pistols made their appearance, pistols that were far simpler and did not require any manipulation to keep them safe and available. The Einhand technology came along just in time to be obsolete.