---
Abdul Alhazred

Posts: 73011
Joined: Mon Jun 07, 2004 1:33 pm
Title: Yes, that one.
Location: Chicago
Well?
.
Sidelight: My spell checker suggests "Starbucks" for "Warbucks".
You do not have the required permissions to view the files attached to this post.
Last edited by
Abdul Alhazred
on Sat Nov 10, 2018 10:54 am, edited 1 time in total.
Any man writes a mission statement spends a night in the box.
-- our mission statement
plappendale
---
Giz

Posts: 1570
Joined: Mon Jul 12, 2004 5:07 pm
Location: UK
Kelsey Grammer has been working out?
---
Nyarlathotep

Posts: 48122
Joined: Fri Jun 04, 2004 2:50 pm
I was thinking "If Kelsey Grammer and Vincent D'onofrio had a baby"
Bango Skank Awaits The Crimson King!
---
gnome

Posts: 22450
Joined: Tue Jun 29, 2004 12:40 am
Location: New Port Richey, FL
Supreme Commander Leonard
"If fighting is sure to result in victory, then you must fight! Sun Tzu said that, and I'd say he knows a little bit more about fighting than you do, pal, because he invented it, and then he perfected it so that no living man could best him in the ring of honor. Then, he used his fight money to buy two of every animal on earth, and then he herded them onto a boat, and then he beat the crap out of every single one. And from that day forward any time a bunch of animals are together in one place it's called a zoo! (Beat) Unless it's a farm!"
--Soldier, TF2
---
Anaxagoras

Posts: 22980
Joined: Wed Mar 19, 2008 5:45 am
Location: Yokohama/Tokyo, Japan
Speaking of villains, Jeff Bezos (now richer than Bill Gates) looks kind of like one.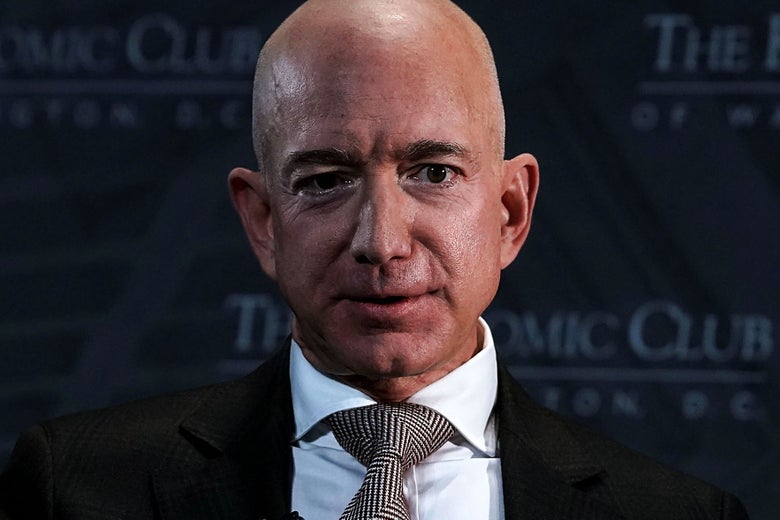 Cities Should Never, Ever Agree to an HQ2 Contest Again
The billions that Virginia and New York are giving to Amazon will only worsen corporate shakedowns for public subsidies. Here's how to stop the madness.
It's a bit like how major sports franchises shake down the cities to get them to help pay for a new stadium, by threatening to move to another city if they won't. In this case, a hugely profitable corporation is asking cities for tax breaks and subsidies to incentivise them to build their headquarters there. It's a case of the rich get richer because they have all the bargaining leverage.
Earlier this year, when Amazon was still maintaining that 20 North American cities had a shot at becoming the home of its second headquarters, it received a bid from the Metro Denver Economic Development Corporation. The Denver pitch came with incentives "in excess of $100 million," according to Metro Denver vice president Sam Bailey. Or maybe it didn't. Like many of the pitches that American cities made to host Amazon's second headquarters, Denver's was submitted by a private organization, which protected its promise of public funds from public scrutiny. Similar arrangements were made in Austin, Texas; Indianapolis; and Miami-Dade County, Florida. Philadelphia and Pittsburgh are fighting open-records requests to reveal their proposals, even though at this point it hardly matters.

The good-faith reason for this discretion was that cities believed they were in competition with each other, and like school groups preparing for a class project, they didn't want their rivals to see what they were doing. Specifically, they appeared to be under the impression that Amazon was evaluating the extent to which each place would bend its tax code to lower the company's cost of doing business over the next couple decades.
But the people who run Amazon are not like those of us who shop there, searching for the greatest discount among 10 identical staplers. They never really imagined they might move 50,000 employees to, say, Tucson, Arizona, and may have even known all along that they would go to Arlington, Virginia, and Long Island City, New York, as the company announced Tuesday, after the news leaked to reporters last week. And so the yearlong public bake-off ended with a whimper.

In picking northern Virginia and New York City, Amazon has done what every other expanding, high-value company does—open a couple regional branch offices in cities with solid infrastructure, talented workers, and great amenities. But because the company framed it as a competition, it extracted an astounding public subsidy from taxpayers in Virginia and New York. (The company also announced Tuesday that it will send 5,000 corporate jobs to Nashville, Tennessee, to staff an "Operations Center of Excellence.")
In the latter case,

New Yorkers will reimburse the company to the tune of $1.7 billion for its choice

.

The state of New York will spend up to a half-billion dollars to build Amazon's offices, just as other states build football stadiums for NFL teams

.

The state will also offer $1.2 billion in tax credits if the company creates 25,000 jobs by 2028, or $48,000 a job

. Instead of property taxes, the company will use a city program called PILOT to pay mostly for improvements to its own new neighborhood.

Virginia fared slightly better.

The state will invest a couple hundred million in Amazon's new site and will offer $22,000 in tax credits per job

.
Remember, Amazon is by some metrics the most valuable company in the world (certainly among the top 5, along with the likes of Apple and Google). The states are paying to build offices for these companies as well as offering tax credits.
A fool thinks himself to be wise, but a wise man knows himself to be a fool.
William Shakespeare
---